Poker Nights: "Dream Girls"
AMIGA version of a PC Strip Poker game that was originally published by VTO (Verlag Teresa Orlowski) in 1993. This port is based on "Poker Nights: Teresa Personally" which was already released for Commodore Amiga in 1994. We patched this game to handle additional graphics and added an english translation.
FEATURING ...
3 new opponents with different skill level
more than 75 pictures in HAM6 format
animated strip sequences
playable from harddisk
new title screen & logo
new icons with 8, 64 or 128 colours
2 different languages (English/German)

Tooltype Trainer-option (Custom5)
Quitkey (F10)
REQUIREMENTS ...

OCS / ECS or AGA Amiga with at least Kickstart 2.0 and 1 MB ChipMem

This game will also run under emulation on Windows, Linux or Mac using FS-UAE or WINUAE and official Amiga ROMS.


HardDisk with at least 5 MB free filespace

4 MB FastMem to cache all data (no picture reload)
Additionally you need an A500 Kickstart 1.3 ROM image. The kickstart image must be located in the directory "Devs:Kickstarts" and must be named "kick34005.A500". The image can be extracted from an A500 with tools like GrabKick or similar which can be found on aminet. Furthermore the file "kick34005.A500.RTB" must be installed in the same directory as the kickstart image. It is part of this game package. Just copy it if not already present.
INSTALLATION ...

Extract the archive to your HardDisk or RamDisk, open the directory and double-click the Icon "DreamGirls". When the program starts you can change the language settings and see which Quitkey is defined to finish the game. If you like you can change the icon with another one in the subdirectory "Icons".
HOW TO PLAY ...
You play a five-card draw poker game. If you are not familiar with the poker game rules, please read the game instructions in Manual.txt or Anleitung.txt. The game is over if one player has no money left.
CREDITS ...

Bert Jahn
Programming
Sascha Steinert
Graphics and Translation
LAST WORDS ...

With "Poker Nights: Dream Girls" we have released 1 of 3 data-disks. It might be possible that we convert the other 2 programs in future. Please let us know if you are interested in an AMIGA version of "Tropical Heat" or "Backdoor Club".
Greetings to the a1k.org & WHDLoad community and all organizers & celebrity judges of this competition, especially RJ Mical. ;O)
We hope you enjoy our contribution for AmiGameJam 2021.
* * * AMIGA - Keep the magic alive ! * * *
Download
Click download now to get access to the following files:
Comments
Log in with itch.io to leave a comment.
How can I emulate this game ?
I've always wanted to play this game, but I don't know how to operate it after downloading winuae. Can you teach me in detail??Please.
I've created an HDF-file for emulators like WinUAE that contains all required data (see screenshot). I can send you the file if needed.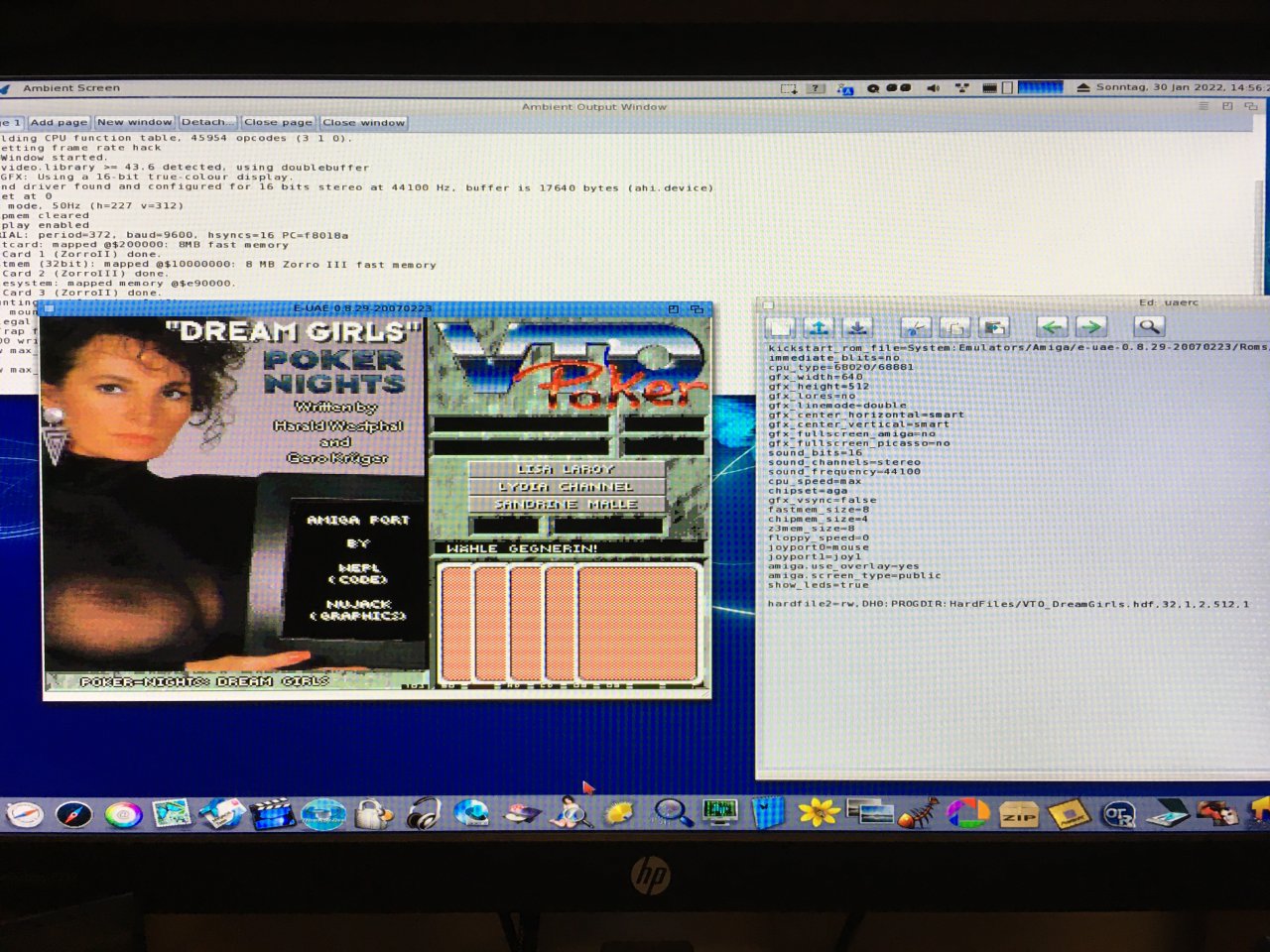 Oh, thank you very much. I think I need it in detail. Can you send it to al1270044369@gmail.com?
The game actually has a great animation and visuals considering others of the same genre on Amiga! Music is good also and matches the theme.
I haven't played the PC version to compare..

The AI might need some adjusting as I find it increases its odds (to benefit the girl's hand) the more you bet.. making it extremely difficult to undress them and forcing you to progress slowly... but again havnt played the PC version to compare.. need to find a copy..


Found a bug... I had AA and 55 and Lisa beat me with QQ and 66
Aces should be considered the higher card
Oh no. Will check and see if we can fix it.
is it possible to add a confirmation dialogue when quitting? :)
To be precise, so you can reproduce the exact issue, both hands are in the following exact sequence..
My hand as Larry was:
5 Diamond, 5 Heart, J Spade, A diamond, A Spade
Her hand as Lisa was:
5 Spade, 6 Heart, 6 Spade, Q Heart, Q Club

another occasion I had a winning hand but lost..
2-2-5-10-10
she had
4-8-8-9-9

Normally I should win as for the highest pair (10s vs 9s) .. but for some reason I believe it used my lowest pair to compare (2s vs 8s)..

So I understand the problem.. you sort the cards lowest on the left, highest to the right. But when comparing the pairs with opponents hand, it starts left to right and thats the problem. You should have it compare starting from right side pairs first (highest to lowest)
This looks great, HAM mode in fully effect!
Cool! Please add .adf version
This would be too many disks. There is an hdf-file available that can be used for emulation. More details: EnglishAmigaBoard